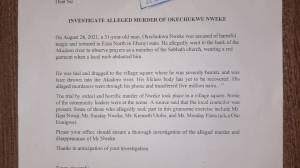 Dr Leo Igwe, a human rights' advocate, has actually petitioned the Inspector-General of Police, Usman Baba, over alleged abuse and murder of a guy, Okechukwu Nweke, by hoodlums from a community in Ebonyi State.
Igwe, in a letter addressed to the IGP, said homeowners of Ezza North Local federal government location of the state accused the deceased of "damaging magic" and praying by river.
The community beat him up and threw him into the Akadoro river where he drowned.
The human rights activist stated the incident happened on August 28, 2021, stressing that IGP Baba need to examine the matter and bring the criminals to book.
A copy of the letter which has been acknowledged by the IGP workplace on Monday was seen by SaharaReporters on Tuesday.
It partially read, "On August 28, 2021, 31-year-old guy, Okechukwu Nweke was accused of hazardous magic and tortured in Ezza North in Ebonyi state. He apparently went to the bank of the Akadoro river to observe prayers as a member of the Sabbath church, using a garment when a regional mob abducted him.
"He was connected and dragged to the town square where he was seriously beaten and was later on thrown into the Akadoro river. His lifeless body has yet to be recovered. His declared killers went through his phone and transferred five million naira
"The trial by ordeal and dreadful murder of Nweke happened in a town square. Exact same of the community leaders were at the scene. A source stated that the local councilor existed. Some of those who allegedly took part in this gruesome workout consisted of Mr. Ikpa Nwaji, Mr Sunday Nweke Mr. Kenneth Utobo, and Mr. Monday Eleta (aka Oso).
"Please your office must guarantee a thorough examination of the supposed murder and disappearance of Mr Nweke. Thanks in anticipation of your examination."
ToriNG